AI is an effective technology to extend the ERP system's technological capabilities. According to Gartner, by 2020, 80% of emerging technologies will have artificial intelligence as their key component. Embedding AI in ERP can achieve optimization and modernization of conventional business processes. Read this blog post to explore how businesses are driving growth by integrating AI in ERP systems.
Type of AI as per Business Requirements
Touchless ERP
Touchless ERP drives efficiency, improves inventory traceability and visibility, enhances order fulfillment process and automates transactions. It combines a touchless digitization engine, APIs and robotic process automation (software robots) in a nonintrusive manner to automate processes. The probability of manual errors significantly reduces too.
At Oodles ERP, we provide customized ERP services that enable organizations to improve business efficiency and eliminate manual operations. Our AI developers use RPA to automate manual tasks using tools like UI path. For instance, we implement RPA in existing ERP systems to improve the efficiency of HR operations. We also develop software bots to automate mundane tasks like resume uploading and matching.
Predictive Analytics
Embedding AI-driven analytics into ERP systems enables businesses to achieve accuracy in forecasting. Predictive analytics uses machine learning algorithms and statistical analysis techniques to extract and analyze data from ERP to spot trends. AI integration enables businesses to capture real-time information including video, audio, and data to accelerate deep learning of existing operations. With predictive analytics, businesses can determine when operating equipment can fail and when maintenance will be required.
Our development team at Oodles uses advanced planning and scheduling tool Frepple to fix typical operational issues faced by manufacturers. We enable them to cut on late orders, manage rush orders, anticipate disturbances and improve service levels. Frepple is effective for the following key manufacturing tasks:
Production Planning: Frepple's interactive GANTT chart accelerates the task of reviewing and editing production schedules. Using Frepple, planners can automatically allocate resources depending on availabilities and overtime.
Demand Forecasting: Manufacturers can anticipate their supply requirements well in advance with Frepple. It enhances collaboration between planners and sales teams. Using Frepple's data and planning visualization tools, enterprises can make decisions and turn down a rush order
Inventory Planning: We use Frepple to plan inventory, compute safety stock and reorder quantities while following all inventory policies.
Benefits of Integrating AI in ERP Systems
Improving Customer Service Through Interaction
AI-powered ERP systems enable businesses to improve their customer service. Businesses can increase their sales and customer loyalty by using chatbots. They enable businesses to resolve customer queries with efficiency and consistency. With AI, businesses can also integrate real-time data from different customer-facing departments to provide a 360-degree view of the customer. If a customer requires field service, AI algorithms can schedule service calls by efficiently analyzing the qualifications and performance of all service team members.
AI-enabled ERP systems can fulfill customer requirements in real-time. Rather than managing a queue of disgruntled customers manually, businesses can use chatbots to answer frequent queries.
At Oodles ERP, our ERP development team creates chatbots using Dialogflow or AWS lex to automate various sales and support operations. Dialogflow builds an intent-based chatbot that solves user queries on a one-to-one basis taking chat history into context. Using Dialogflow, businesses can handle customer interactions with voice and text-based conversational interfaces.
Enhancing Productivity to Maximize Profits:
Augmenting ERP with AI mechanisms can provide a competitive edge to businesses with high productivity. It enables businesses to automate mundane tasks like data entry, accounting and payroll administration, and access all necessary customer data easily.
The focus of embedding AI into ERP systems is to automate repetitive tasks to improve efficiency and reduce errors. It frees up key stakeholders to allocate more time for value-add activities. AI is effective for troubleshooting minor issues and maximizing ERP benefits.
Improving Forecasting Capabilities with AI
Analytics and algorithms play an important role in improving the forecasting capabilities of ERP systems. AI-powered ERP systems can detect seasonalities and make recommendations about increasing and decreasing production.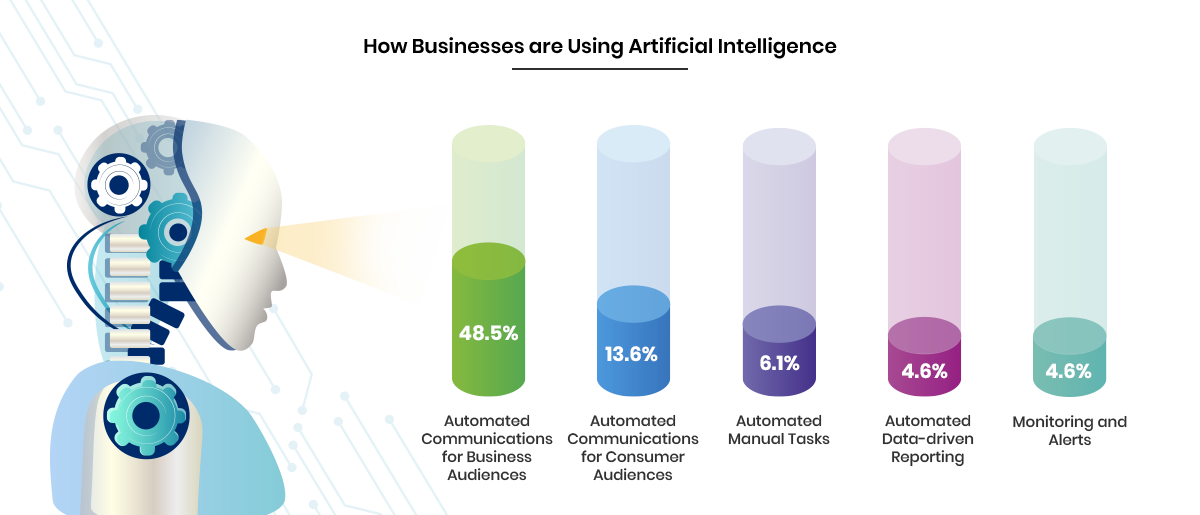 Admin