he process of outbound sales revolves around the interaction of sales executive and potential customers via phone. If a sales representative fumbles while engaging with a valuable customer, the repercussions can be detrimental. Integrating Salesforce with a Computer Telephony System (CTI) enables business representatives to manage sales operations efficiently. Salesforce CTI is an open API that enables third-party CTI vendors to connect telephony channels into the Salesforce CRM interface. Its features like click-to-dial, automated call logging, local presence, softphone, voicemail drop, and screen pop up enhances the customer experience. Let's explore how Salesforce CTI Integration enables sales representatives to successfully conduct real-time communication with potential customers.
At Oodles ERP, we provide salesforce development services to streamline complex CRM operations.
Benefits of Salesforce CTI Integration
Create Outbound Sales Cadence:
Salesforce CTI integration enables sales representatives to schedule outbound calls, follow-up tasks and emails. The result is that they can follow up with prospects through calls and emails and add valuable opportunities to their sales pipeline.
Enhanced Salesforce Adoption Rate:
Integrating Salesforce with CTI enables sales representatives to increase the usage of their CRM. It also gives a detailed view of all the sales activities to the management. When representatives use their phones through CTI, all their activities are recorded and tracked.
Improved Lead Conversion:
The sales representative should have the information about a lead so that they can tailor a conversation with the prospect. Salesforce CTI integration enables sales representatives to preview all the relevant information about the prospect before initiating a call. It includes information like geographic location, past purchase of products and LinkedIn profile.
How to Integrate Salesforce with CTI Systems
Using Open CTI Tools
Salesforce Open CTI is an integration tool that is developed by Salesforce.com. It enables businesses to integrate third-party CTI systems with Salesforce. The unique specification of this tool is that you do not have to download CTI service provider adapters. Open CTI is browser-based and enables developers to gain benefits of cloud architecture.
Salesforce CTI Tools enables developers to:
* Provide an integrated CTI system that is cross-platform and cross-browser compatible
* Build and integrate CTI with all versions of Salesforce without using third-party adapters
* Provide a base to create customizable softphones that are integrated into Salesforce console
* Developers should have a basic familiarity with the following components to efficiently use this process:
* Salesforce APIs and Visualforce APIs
* CTI Adapters
* JavaScript, CSS, Java, and HTML
* Salesforce CRM Call Center
* Salesforce Console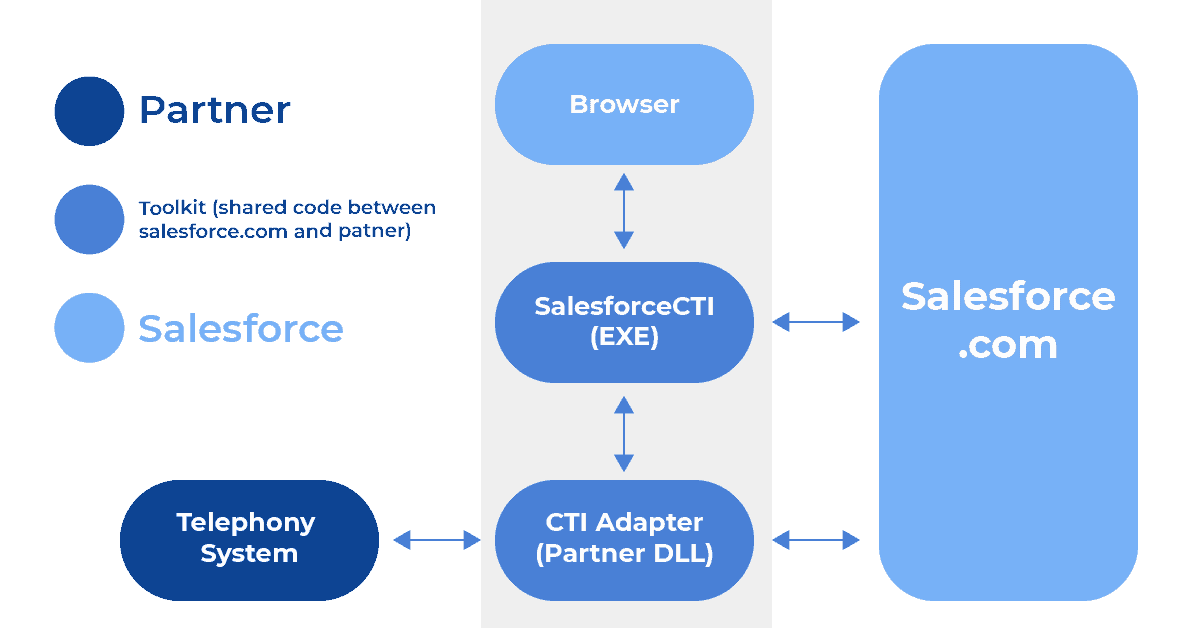 Whenever a call is initiated through Salesforce, the Asynchronous Javascript Asterisk Manager (AJAM) connector dials to the Asterisk component of the CTI service provider. The Asterisk component then links up the call to the end-user and instructs AJAM to establish an official call. AJAM performs additional operations like recording, transferring or monitoring. AJAM connector also enables the sales representatives to fetch caller IDs and other customer-related data. The process is then mapped on to multiple servers and callers for inbound and outbound tracking and calling.
Using Telephony Service Provider APIs
During the development phase of Salesforce, there were only a few ways to push notifications to the browser. Most of these ways were not applicable in real-time and had significant lags because of inefficient browser communications and slow internet networks. Adding international call center details increased time lags to significant 10s. To reduce the time lag, businesses used desktop-based telephony adapters to connect agent computers directly with the telephony service providers.
With the rapid advancement in internet networks and browser-based communication, CTI to desktop models has now ceased to exist. There are various components used to establish calls by telephony service provider API like custom Apex classes, Visualforce classes, and Salesforce.com CTI adapters.
To Read Full Article: Improving Business Efficiency with Salesforce CTI Integration
Admin